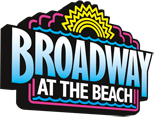 Broadway at the Beach is a premiere shopping center, that has been in existence since 1996! This well known Myrtle Beach destimation boasts over 150 stores, and have won the state's best travel destination award! With shops of all kinds, and plenty to do ... Be part of the 14 million people annual who visit this hot spot of Myrtle Beach life!
For more information, visit the page for Broadway at the Beach.
With a shopping center like this, you may never leave Myrtle Beach! Over 150 retailers, attracctions, and other stores. The best part is, it's the hub of Myrtle Beach. With many events going on there, such as fireworks displays, shows, etc. It's no wonder it wins the hearts of all!
It is free to walk around, and prices obviously vary by shop! Enjoy the nice walk, and along the way see things that might interest you!
(843) 444-3200
Website